News
---
Terra Tartaro is Hungary's best red wine
We are very proud that our Terra Tartaro 2012 was awarded Hungary's best red wine in 2017 by the Magazine "Top 100 Magyar Bor".
This is the second time after 2015 that we have received such a great score for one of our red wines. By the way our Villányi Franc 2012 is also included in the best twenty wines, as the 14th on the prestigious list.
Lagona in Falstaff
The prestigious Falstaff Wine & Gourmet magazine rated our 2013 Lagona 92 points with the following tasting note:
Semi-bitter chocolate, fresh black cherry, almost like a black walnut gateau. Dense, mellow tannins, chubby, round, and still very closed in the palate structure, ripe acid, good fruit potential, integrated alcohol. Good structure, takes some time.
Villányi Franc in Falstaff magazine
The prestigious Falstaff Wine & Gourmet magazine rated our 2013 Villányi (Cabernet) Franc 93 points with the following tasting note:
100% CF. Blackberry, blackcurrant, elderberry. Some cinnamon. With air also herbaceous. Soft and silky, good alcohol, fine acidity, powerful tactile minerality, high potential for unfolding spiciness in the future.
Budapest Wine Festival 2017.
Our winery takes part in Budavár Wine Festival, 7-10 September 2017, in Buda Castle.
You can meet us in Villányi Corso in Oroszlános udvar. Map can be found HERE. All the actual sortiment will be available during the weekend. Let's meet in Budapest (store no. 120.).
Wine of the Hungarian Parliament
Our Villányi Franc was chosen to be the Wine of the Hungarian Parliament in the category of cabernet franc, in 2017. The aim of the wine competition is to select excellent quality of drinks made in the Hungarian homeland, that represents Hungarian Parliament every year in representative events.
One of the eight announced categories was cabernet franc. In 2017, our Villányi Franc was chosen to be the best of the variety. The award ceremony and hospitality takes place in 5th May 2017., in Parliament's Hunting Hall. By clicking on THIS link, you can read further information about the wine. The article is available only in Hungarian language.
Success in Szent György Wine Competition
We're pleased to inform everyone, that our Kékfrankos Reserve 2013 is the Champion of the Siklós Wine Competition in 2017! Chosen to be the wine of Tenkes Captain.
Dark purple with violet rim. In the nose sour cherries, hint of vanilla and pepper. Mouth filling concentrated yet supple wine with gorgeous red and black fruit. Great body and structure. Very long lasting. It can be tasted in Villány in the Wine Bar!
VinCE Wine Show, Budapest
Our winery participates in VinCE Wine Show in Corinthia Grand Hotel Budapest, March 17-19, 2017., as we do every year.
This time our wines - Cabernet Franc 2012 & Syrah 2013 - will be represented by the Villány Wine Region's common "Villányi Franc" & "Villányi Premium" stand.
Here you can find the details of the event. Let's meet in VinCE!
Winewriter's choice in Debrecen
Our Cabernet Franc 2011 was awarded by the Circle of Hungarian Winewriters in 2016.
The winery will participate in the event of Winewriter's Choice award ceremony and consumer tasting,
where our Villányi Franc 2012, Kékfrankos Reserve 2013 & Terra Tartaro 2011 will be presented.
Let's meet in Debrecen on the 28th January, 15.00–20.00
in Déri Museum (4026 Debrecen, Déri tér 1.).
Prowein 2017
We're going to participate in Prowein 2017, Düsseldorf.
Place: Messegelände Düsseldorf
Stand: Halle 13 / C39 (Vinum Stand)
Date: 19.-21. March 2017.
From: 9-18 Hrs.
The following wines can be tasted:

Siller 2016 (Kadarka, Syrah)
Kadar_X 2016 (Kadarka / Blaufränkisch)
Kékfrankos Reserve 2013 (Blaufränkisch)
Syrah 2013
Cabernet Franc 2012
Hugh Johnson's Pocket Winebook
For the first time, Heumann Winery is being mentioned in Hugh Johnson's Pocket Winebook in a single entry, specially mentioning the great Kékfrankos Reserve and Villányi (Cabernet) Franc.
Borjour Magnum 2016
We attend the wine exhibition "Borjour Magnum".
Venue: Budapest, MOM Sportközpont
Date: only Februar 13, 2016
Time: 2 p.m. – 10 p.m.
The two best red wines of Hungary
In the supplement, "Top 100 wines from Hungary 2015" (October 2015) of the well-respected daily newspaper Népszabadság two of our wines were awarded first and second place in the red wine category! Our Kékfrankos Reserve 2012 was named first and the Cabernet Franc 2011 second.
Andreas Larsson MS. on Heumann Terra Tartaro 2011
Vinum - Wine of the Month July 2015
Carsten Henn, Vinum editor has recommended our Kékfrankos Reserve 2012 as his wine of the month July. This is his tasting note:
What a wonderful fresh, black-violet Kékfrankos (Blaufränkisch) Reserve, made by the Swiss family Heumann inVillány, the southernmost wine region of Hungary. Somewine specialists callthisarea the Bordeaux of the East. Inspiring pure notes of sweet cherry and licorice plus a great, medium-grained tannin structure, which integrates the fruit sweetness.This combined with a fresh acidity gives the wine length and enormous succulence.The wine ends with noble tartness. It is rustic in the finest way - a nobleman made farmer. Still needs time in the bottle, another two years, but has everything for a long life. Aged in 500-literbarrels.
Recommended by Carsten Henn, Vinum Editor Germany
VinCe Magazin July 2015
Pale, greenish yellow colour. Intense, floral, citrus and vigorous Riesling with thrilling fragrance. Lemony acidity, steely texture and varietal character. Long aftertaste.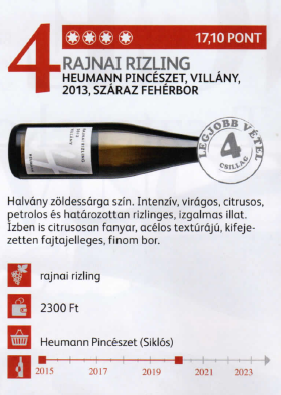 91 points
for our Cabernet Franc 2011
"Tasted" (Andreas Larsson, MS / Markus del Monego, MW) has rated our Cabernet Franc 2011 with very good 91 Punkten.
Subcategories